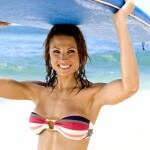 Breast augmentation with implants remains one of the most popular procedures in plastic surgery. Unfortunately, there are doctors who are capitalizing on the continued interest in breast enlargement but who are not properly trained to do the procedure. Many will learn the procedure in a weekend (or week-long course) and then quickly become "experts" in the field of breast augmentation. There are even new societies that appear to include the most specialized doctors in breast augmentation, when, in reality, those new "specialized" societies serve to house many doctors who used to be family doctors, internists, dermatologists and general surgeons until they took the weekend course.
Properly performed, breast enlargement yields a natural-appearing, larger breast that can reverse the effects of motherhood and breast-feeding. Or it can help a woman who never developed breasts attain the figure that she always dreamed of. Plastic surgeons certified by The American Board of Plastic Surgery have been at the forefront of breast augmentation for over 50 years. Whether helping to develop new implants or developing new techniques, board-certified plastic surgeons are best equipped to give you proper advice in selecting they type of breast augmentation, breast augmentation with a lift (mastopexy), or even breast augmentation using fat transplantation. They can also help you pick a size and style of implant that fits your frame, height and weight. A routine breast augmentation procedure usually takes less than an hour of surgery. Most patients are back to work within a week unless they have a job that is physically demanding. There are many monikers associated with breast augmentation: "rapid recovery breast augmentation," "breast augmentation under local anesthesia," "breast augmentation under conscious sedation," "24 hours breast augmentation," "breast augmentation with less pain and faster recovery," and others.
Regardless of the advertised technique, the most important decision you will make is choosing a surgeon certified by The American Board of Plastic Surgery and who belongs to the American Society of Plastic Surgeons or the American Society for Aesthetic Plastic Surgery. So do your research and demand skill and experience, backed by the proper credentials. That will allow you the best chance to have a great result in breast augmentation.