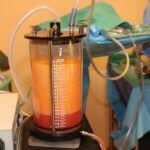 Liposuction has evolved greatly since it was first introduced to the field of plastic surgery about 35 years ago. Much smaller cannulas now allow for precise fat removal with less likelihood of leaving indentations or irregularities. One big advancement was the introduction of a tumescent technique, in which a solution containing adrenaline and sometimes lidocaine is injected into the target area to help liquefy the fat and to allow the fat to be removed more easily. The terms Power Assisted Liposuction (PAL), Ultrasound Assisted Liposuction, Smartlipo (laser assisted liposuction), S.A.F.E. liposuction all represent different techniques that are available to today's plastic surgeon.
The most important factor in your liposuction result is not which technique is used, but the experience and training of the surgeon performing the liposuction. In addition, the procedure can be done under local anesthesia or general anesthesia. But, again, it is more important to pick the right plastic surgeon than to decide you only want to have liposuction under local anesthesia and choose a surgeon based on the type of anesthesia. A surgeon who is certified by the American Board of Plastic Surgery is qualified to perform liposuction both under local anesthesia and general anesthesia and he/she will guide you in your decision based on the length of the procedure and the amount of fat to be removed. Once you have liposuction, you will wear a compression garment for a number of weeks so the skin molds into its new, smaller shape. Most liposuction patients return to work within a few days unless the type of work is physically strenuous. Maintenance of a sensible diet and an ongoing exercise program are two ways with which you will be able to maintain your new shape. Liposuction is not a substitute for weight loss, but it can work wonders for stubborn pockets of fat that do not go away with exercise and diet.
And, of course, one of the most exciting developments in liposuction is that we no longer routinely throw the fat out. We can prepare a patient's own fat to be re-injected into other parts of the body. Injection of fat into the buttocks is known as the very popular Brazilian Butt Lift. And fat can also be re-injected into the face and even the breasts. Refinement of these re-injection techniques has revolutionized liposuction from a "remove" technique to a "remove and re-purpose" technique.
If you want non-surgical options, there are technologies like CoolSculpting and SculpSure that avoid going under the knife. They deliver results, although not as dramatic as those seen with liposuction. So choose your plastic surgeon carefully and ask all your questions ahead of surgery. And then enjoy your summer-ready body for a long time!