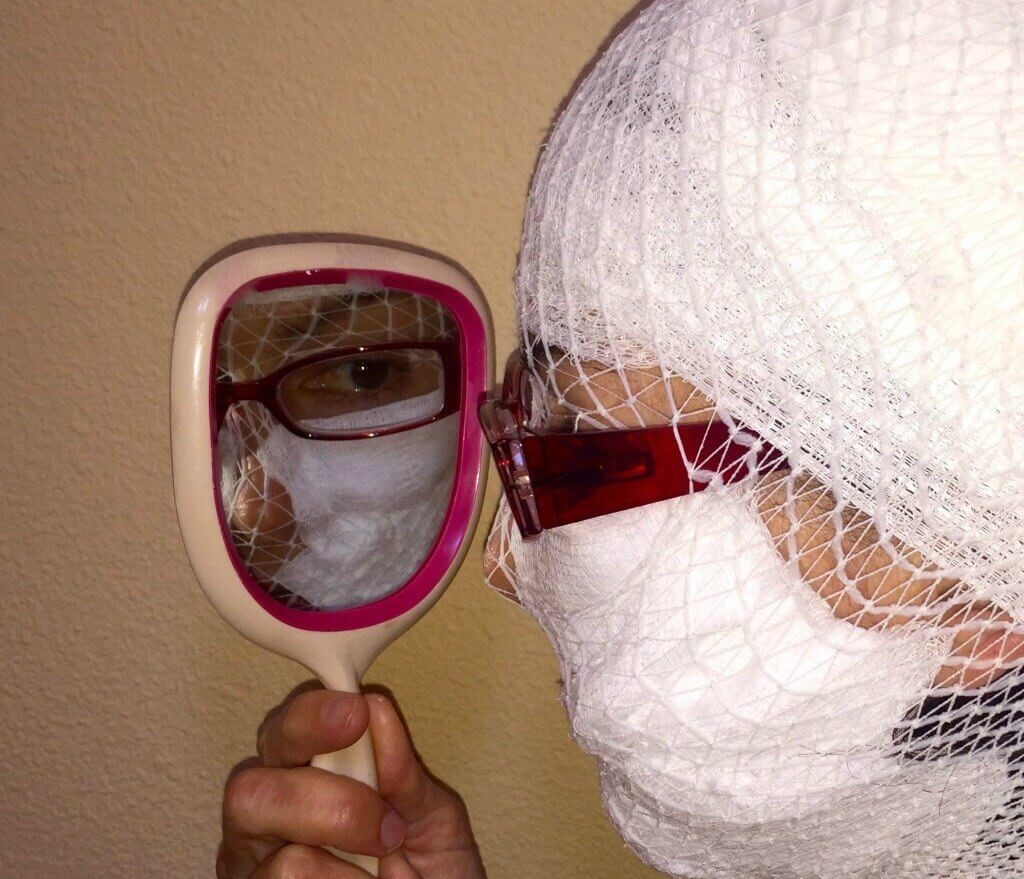 The hypercritical eye of the plastic surgery patient can affect patient satisfaction.
Most plastic surgical procedures create a visible change to the human body. Unlike those who have had gallbladder surgery or a tonsillectomy, plastic surgical patients see their results. Whether they've had a cleft lip repair, a breast reconstruction, or a tummy tuck, they're checking it out. The goal of most plastic surgical patients is to look normal, younger, prettier, or thinner. Looking better gives a boost to the self confident, whether she faces a board room, a classroom, or the mirror before starting one's day. Postoperative assessments in other specialties are non-visual. The plating of a broken bone is judged by x-rays. But plastic surgery is different. From the moment they get home or when the bandages are removed, plastic surgery patients look, weigh, scrutinize, and judge. Most patients are happy with what they see, but some experience emotional ups and downs, even shedding tears over their early results. An emotional reaction is normal and usually transitory--Only rarely do patients remain unhappy.
Common Complaints Right after Surgery
Most busy plastic surgeons are familiar with complaints like: "I had lipo to LOSE inches, not GAIN them!" "My implants are too high!" "My left is different from my right—WHAT'S WRONG?" There's a reason patients are so much more critical of their early results than their surgeons. Most plastic surgeons have seen hundreds or thousands of patients heal from surgery, and that's an advantage their patients don't have. So to a patient, normal healing can seem like a complication. And that can be scary.
"Why Don't My Results Look Like the Ones on My Doctor's Website?"
There are several factors to consider when gauging early results. 1. Surgery is trauma. When tissues are injured, blood flows to the scene to repair injured tissues. Fluid seeps out of the blood vessels, resulting in swelling. 2. Swelling is normal and expected. Depending on the procedure, swelling peaks after the first two days. Cold packs, elevation, and compression all help, but it may take weeks or even months for all the swelling to dissipate. No wonder the early result doesn't look like photos on the plastic surgeon's website! 3. The left side and the right side never heal the same. One side is always more swollen, heals more slowly, and hurts more. Totally normal. 4. It takes time for tissues to settle. But they will. If you have a concern, don't rely on patient forums or websites in which doctors you don't know answer your questions. Nor should you rely on the advice of family or friends. Swelling, bruising, and asymmetry can indicate a complication, so call your plastic surgeon. Only he or she knows your medical history and exactly what was done in surgery. If you have doubts about your present surgeon, seek a second opinion from another reputable, board-certified plastic surgeon. (And don't worry about hurting your present surgeon's feelings. It's your body!) http://youtu.be/3PkqzBuVEcc
Complaints after Early Healing
After the initial bruising has settled, patients may change to a new set of complaints: "The lines in my face are coming back." "I wanted to be a C-cup, but I'm a D." "My friend told me this is a botch job." 1. Patients often develop a hypercritical eye during the recovery period. This is human nature. Patients often don't notice their own asymmetries until their body changes and see themselves with new eyes. 2. Patients compare their results with their friends, who look nothing like them. Bodies are very different. A surgeon doing the same procedure on different people will have a different results. The patient with poor skin tone won't have the same result as her friend with tight skin. Even if you don't bet, you can bet on that. 3. Inaccurate external measures can derail enjoyment of good surgical results. Not fitting into a desired bra size can be all-consuming, even for a patient happy with her unclothed result. Bra sizes aren't standardized the way ounces and milliliters are, so they vary widely. The best solution may be to find a new brand of bra. 4. Friends who offer critical opinions can be destructive. Though they may mean well, friends may not be aware of how profoundly pre-existing asymmetries, poor tissue tone, or anatomic limitations affect the surgical results. "You got a botched job" just isn't helpful. (Tip: Look for supportive friends and family as you recover.)
The Limits of Plastic Surgery
Plastic surgery isn't magic, and it doesn't create perfect bodies. It can never make the left match a mirror to the right; it can't change tissue-paper skin into Lycra-skin; and it can't change an apple build to a pear. Understanding what plastic surgery can and can't do is essential to patient satisfaction. If you (or a loved one) are unhappy with your surgical result, discuss your concern with your plastic surgeon. Don't be like patients who stew about it until they become angry. They vent to their friends, join online forums, post bad reviews of their surgeon, all the while fueling their anger, and they don't get the help that they need. Don't be passive. Don't fear offending your plastic surgeon. Speak up. In a future post, I'll discuss what to do if you've healed from surgery, but you're still disappointed with the result.