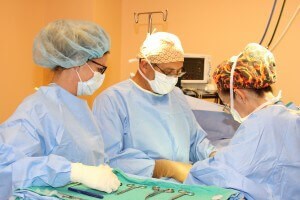 Not a day goes by without a patient asking if they qualify for a mini tummy tuck, a mini facelift, or a mini breast lift. It is easy to see the appeal of a mini operation. A shorter incision, less bleeding, and a quicker recovery. What's not to like? The answer is: there is a lot to not like. An old professor of mine used to say: "a mini operation gives mini results." While a shorter incision and shorter operative times are always good goals, they have to be measured against the results that are obtained.
In our practice, fewer than 1 patient in 50 is a candidate for a mini tummy tuck, and yet most of those patients will either ask or wonder if they are candidates for a mini tummy tuck. They are initially disappointed that they need a "full" tummy tuck, but then they are thrilled when they see the results of performing the correct operation. If one scours the patient-driven chat rooms like RealSelf, one quickly finds out that a great number of the unhappy patients on the chat are those that opted or pushed for a mini. Mini tummy tucks, mini facelifts and mini breast lifts are often pushed and even trademarked by doctors who are not plastic surgeons. Those surgeons' entry into the cosmetic field is predicated on learning a technique in a weekend course and then offering the mini version to unsuspecting patients who are lured by the procedure being done cheaply under local anesthesia with minimal recovery.
As we many times warn patients: you may have the procedure done under local anesthesia someplace else, but if you are getting the wrong procedure or incomplete procedure done under local anesthesia, you will have wasted your money and made the correct operation much harder to do. Mini procedures also have the allure of being cheaper. We have seen many patients choose a mini procedure based only on cost, only to have a poor result with resultant scarring that makes correction more difficult and more expensive than if they had done their research and opted for the complete tummy tuck, or complete facelift.
So buyer beware, candidates for mini surgery are few. Submitting to a mini procedure may save you money up front, but it may leave you disappointed and having to spend a lot more to have it corrected. Plastic surgeons certified by The American Board of Plastic Surgery can help you navigate the most appropriate choices for your specific goals.