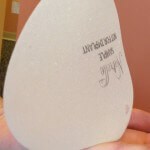 A year ago Sientra was the first company to receive FDA approval for a new type of silicone gel implant. Now one more has received the FDA's nod: Natrelle's Style 410 shaped implant from Allergan. Sometimes called "gummy bear," "form-stable," or "highly cohesive silicone gel," these implants are designed to maintain their original form.
How are Gummy Bear Implants different from other silicone gel implants? It all has to do with an increase in the cross-linking of the silicone molecules. Studies from both companies indicate that this increased cross-linking may lead to lower rates of hardening ("capsular contracture"). The implants are firmer which helps them maintain their tear-drop form. These shaped implants come in a variety of different dimensions to accommodate many different builds. The shaped implants? ability to maintain their form can help improve not just the size of a woman's breasts, but the shape as well.
The good news for anyone interested in a breast augmentation is now there are more choices! The new implant shapes and dimensions will give plastic surgeons more tools to help each patient achieve her goal.
Gummy Bear Implants will be the best choice for some women, but not for all. A consultation with a board-certified plastic surgeon is the best way to determine which implant will help a patient achieve her goals.
If you're thinking of a breast augmentation, come on in for a consultation, hold a couple of implants, and feel the difference! Experience counts! We have performed thousands of breast augmentation procedures. For more information, please visit us online at www.enhanceyourimage.com or call us at 707-537-2111.