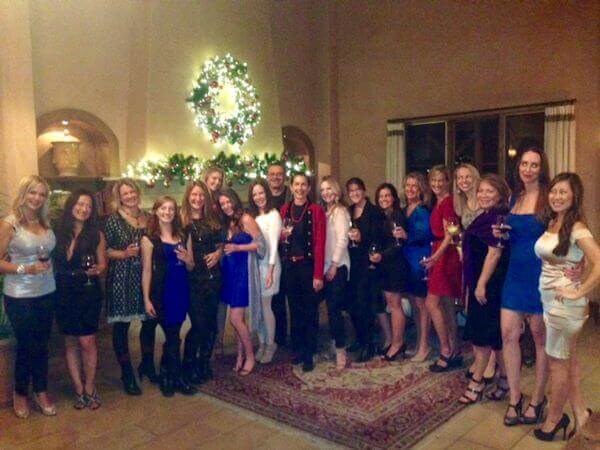 Plastic Surgery Associates Party, 2014, Santa Rosa, California
Thirty years ago, I was an intern spending a month on the pediatric surgery service at Stanford Hospital. Each morning at 5:30 AM, I prepared for morning rounds, which began an hour later. I went from baby to baby, pouring over their charts and lab results, checking the nursing notes, and looking at their wounds. By 6:30 AM, I went to the neonatal ICU to begin the hour-long rounds with the third-year resident. His name was Francisco ("Paco") Canales. We both worked long hours. Every fourth night, I stayed "in-house," which meant I worked all day, most or all night, occasionally getting two or three hours of sleep, and I continued working all through the next day as well. When I wasn't on call, I got home around 8 PM if I was lucky, only to start work again less than ten hours later. Paco made rounds three times a day. In addition to rounding with me at 6:30 AM and again at 3:00 PM, he also rounded by himself at 11:30 PM every night. When we had a baby with a diaphragmatic hernia, he set up a cot next to the baby's crib in the ICU; he didn't walk outside the hospital for a week. Our hours were long in part because our surgical cases were long, up to 17 hours. But working those 120-hour weeks allowed me to get to know Paco. Not only was he a good doctor and a gifted surgeon, he was kind to everyone: patients, nurses, and even interns. As the end of the month approached, I wasn't looking forward to the end.
Heather Furnas, M.D. & Francisco Canales, M.D., 1984, during surgical residency at Stanford
Fortunately, it was only the beginning, and 18 months later we got married. In 1990, having finally completed our years of training, we opened up our plastic surgery practice together. For our first two years, we had a single employee. Over the years our practice grew, and now, thirty years later, we have over twenty people on our staff. On Friday, we had our Plastic Surgery Associates holiday party. It was a great opportunity to talk with spouses and significant-others and to chat with our staff about something other than work. As the evening wore on, and the hour grew late, I noticed something. People were having fun. I thought back to the seed of our practice, when I noticed how kind Paco was, and I saw a common thread. The employees who greet our patients by name, who smile, who answer questions, who comfort, who listen... they're kind, too. So it was no wonder that they enjoyed each other's company. We couldn't run the type of practice we do without a team of people who take our mission to heart: We strive to add joy to our patients' lives through genuine caring, generosity of spirit, and the quality of our work. And it all started thirty years ago at Stanford Hospital.