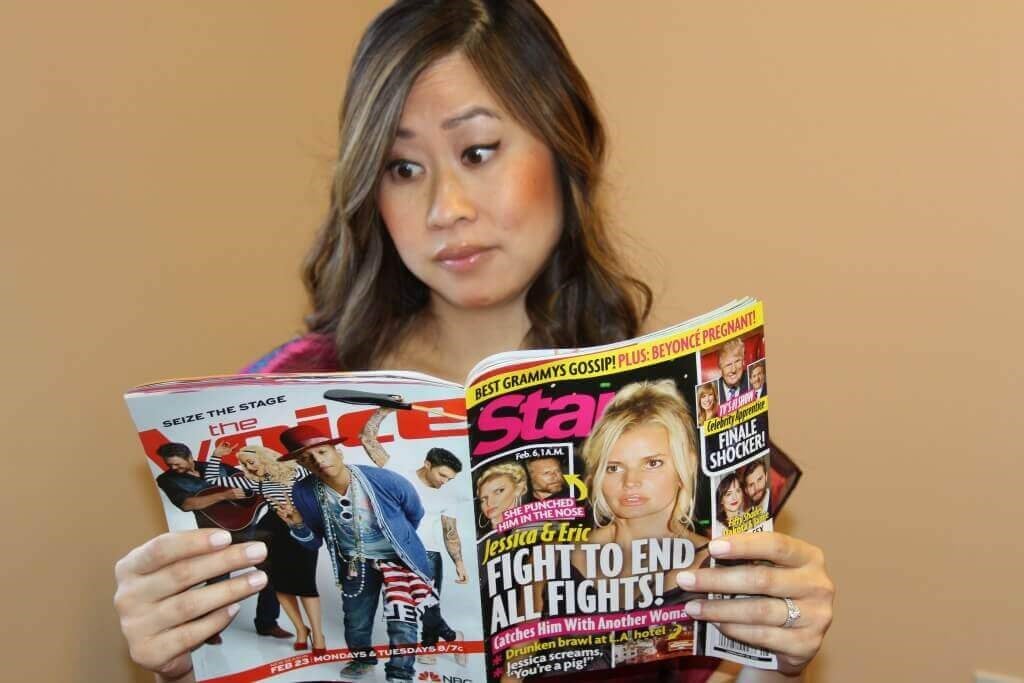 Woman reading tabloid magazine about celebrity plastic surgery
Some of plastic surgery's biggest fans are its critics. Take the Daily Mail, for instance. In October, 2014, their headline screamed, "What HAS Renee Zellweger done to her face?" Readers gobbled it up, responding with 3,600 comments. People love to hate on plastic surgery. Even the Vatican is dishing on the subject. From February 4 - 7, the Pontifical Council for Culture assembled to discuss "Women's Cultures: Equality and Difference." Cosmetic surgery, they pontificated, "can be aggressive toward the feminine beauty." They further asserted, "Plastic surgery is like a burqa made of flesh." "A burqa"? Really?
Will the REAL Plastic Surgery Please Stand up!
OK, the media does show an abundance of exaggerated, unnatural versions of female anatomy. So maybe plastic surgeons are preying on vulnerable women, turning them into animated cartoons. But do those images truly represent plastic surgery? Could it be that maybe...just maybe... they're used to sell magazines?
Who's Really Victimizing Women?
To figure out who's really victimizing women, let's look at those tabloid photos. The photos of celebrities are more likely to feature bad lighting, no makeup, or odd facial expressions than they are to show bad results. Besides, good results, like safe landings, aren't news; no one writes about them. So let's look beyond the plastic surgery fringe to the mainstream.Who's the typical patient, and why does she want plastic surgery? The critics say it's all about vanity. But that's not my experience. In our practice, I see women whose large breasts prevent them from running without pain, or because they're tired of men ogling at them at work, at school, or on the street. Then there are those who can't fill a AA-cup bra, and they want to look like a woman instead of "a 12-year-old boy," as so many of them say. I also see the 100-pound weight-loss patients who seek relief from the billows of loose skin restricting both mobility and wardrobe choices. And then there are the vibrant women with jowls and heavy eyelids who want to look as young and energetic as they feel. Sometimes a young woman comes in with a large, masculine nose that camouflages her beauty, and all she wants is to feel feminine and pretty when she starts a new life at college. What bothers these women affects them every day.
What Do Women Say about Their Plastic Surgery?
The impact of plastic surgery is best described by patients themselves. This is what a few of ours have said: "I feel pretty!" "Now I have the freedom to be myself." "I never thought it would be possible for me to feel womanly or sexy, but I do." "I looked so old before, I dyed to my hair to look younger. Now I look good enough to go gray!" "What a boost this has given my self-confidence." "Before all I thought about was my nose, even hiding my profile view from other drivers at stoplights. Now I never think about it." "This surgery has transformed my life."
The Daily Mail and the Everyday Female
Media critics aren't the only ones who cast shame on women having plastic surgery. Friends and family sometimes do so, too. Wives come in frustrated with husbands who claim working out will tighten post-pregnancy belly skin. Mothers, fathers, daughters, sons, and boyfriends can all make women feel bad about having plastic surgery or even thinking about it. Both my husband and I have noticed in our own practice that patients who don't have support at home are more likely to experience depression during their surgical recovery and are less likely to be satisfied with the results. Dealing with loved ones' opposition takes a toll. Women themselves aren't immune to those stereotypes. Sometimes they wrestle for years with their own prejudices before they finally realize, "This isn't about vanity. This is about feeling better about myself." As plastic surgeons, neither of us would ever talk anyone into having plastic surgery. Nor would we schedule surgery on a woman who's trying to please someone else. Our job is to guide patients to help them reach their goals. But only the patient herself can decide if plastic surgery is right for her. However, if a woman really wants plastic surgery and is a good candidate, talking her out of it, especially by shaming her, has its own set of consequences. One of my patients, a widow, waited forty years to have the surgery her husband had always opposed. Her only regret was that she hadn't done it when she was younger. Most women who've had plastic surgery are regular women. They're inconspicuously taking their toddlers to the park, shopping at Safeway, teaching third grade, going to board meetings, driving their patrol cars, or making dinner for their families. It's time we saw plastic surgery for what it is. If the Vatican would interview a few women who have had plastic surgery, I suspect the Pontifical Council for Culture might soften its language. In fact, recent articles* are starting to fight the stereotypes and argue against the plastic surgery naysayers. Attacking women who have had plastic surgery is destructive, and it's done out of ignorance. While I don't expect the Daily Mail to hush up any time soon, if someone close to you is thinking about plastic surgery, do your research before condemning the idea. If the results were to improve her self-confidence, as it has for so many others --is that such a bad thing?
*See the following links:
http://www.elle.com/beauty/health-fitness/a26805/why-do-we-shame-women-who-get-plastic-surgery/
http://www.thedailybeast.com/articles/2015/02/16/we-need-to-shut-up-about-plastic-surgery.html