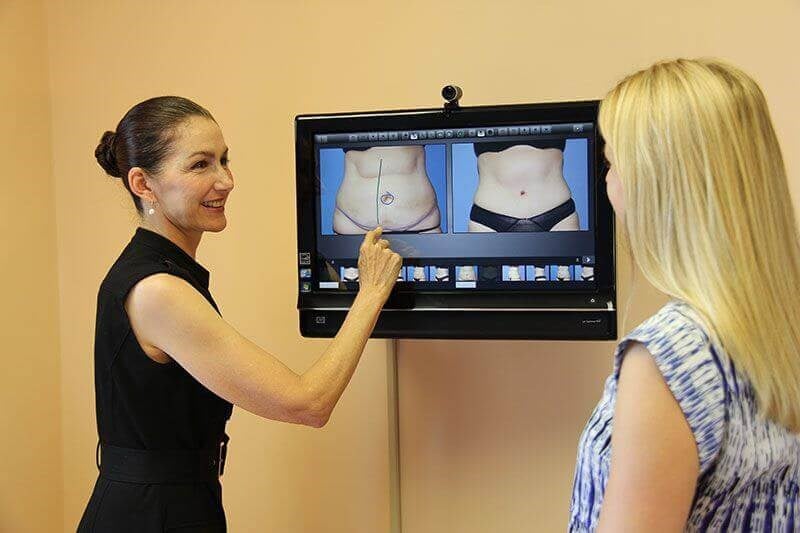 Dr. Heather Furnas explaining a tummy tuck to a patient. For this blog post, I'm stepping off the podium and handing the microphone to a patient who had a tummy tuck and a breast lift. Here is her story:
Before Surgery
I am 51 years old, 5' 9" tall, and currently weigh 170 pounds. I've struggled with being obese all my life. When I was pregnant with twins, I weighed 275 pounds, leaving me with a sagging, flabby, overhanging lower abdomen. Despite reaching a healthy BMI below 25, I still have trouble finding pants that fit; they're too tight across the belly, not right in the waist, and baggy on my thighs. My breasts droop in the extreme after the weight loss and nursing twins. My breasts can fall right out of my bras if I lean forward, and they can float right out of my bathing suits.
The Decision
I decided to have surgery now because I'm in the process of divorcing my spouse of 30 years. My ex-husband was never comfortable spending thousands of dollars on cosmetic surgery just for my self-esteem. As a naturally slender man, he couldn't understand the functional/fit issues.
Preparation
The day before surgery, I put a stool in my shower, stocked the refrigerator with high-fiber foods, set out items in a small travel bag, made sure my mother knew where my advance healthcare directive was, and arranged for a friend to spend the night after surgery.
Surgery
The surgical suite looked just like the video I'd watched. The feeling of familiarity was reassuring. My black-Sharpie surgical markings had a tribal look, perhaps a Maori influence? The funniest part was the spirit level used to make sure the left nipple would match the right. In surgery, I remember the anesthesiologist putting in the IV. I don't really recall anything after that. (If they'd asked the combination to the vault, I suspect I would have given it to them.)
After Surgery
The pain wasn't severe. I felt pain, but I'd expected to and was mentally prepared for it. I was fearful of opiate addiction, so my goal was to taper off my pain medication soon. The greatest pain was from the abdominal muscles that had been stitched together. The hardest thing was getting out of bed. I rolled onto my side and pushed up with my arms, but getting from horizontal to vertical was painful. I took my last pain pill the third day following surgery and transitioned to Tylenol. By Day #4, I was feeling pretty comfortable, except for one thing: I swallowed a tortilla chip wrong, and I had to cough. It. Hurt. So. Bad. I was astonished at how much I slept. I probably slept 20-22 hours a day for two days. On Day #4, I slept 12 hours. I didn't have the energy to read or play cards, and I couldn't concentrate well until Day #5.
Taking a First Look
On the evening of Day #4, I decided it was time to admire my new shape. Even though I had a bit of Frankenstein motif going on, with the stitches, tape, scabs, and bruising, I looked fabulous! I could put on a halter dress braless with complete comfort and confidence. I'd never been able to do that in my life, even as a teen. As for my belly, I can't even begin to describe the transformation. I have room for two cats on my lap now that there isn't all that extra flesh. My belly is just so FLAT. I'm afraid I'm going to wake up in my old body. I tried on a sexy dress, and oh my goodness, it looked fabulous! I can't believe this beautiful body could possibly belong to me. It feels too good to be true. I don't know how to love my body yet, but I think I can finally learn. Wow, writing those words made me cry.
And Now…
Seven weeks after surgery: Not a day goes by that I don't catch myself feeling astonished and thrilled about the way I feel about my body. My body-image/self-image has radically changed. I've gone form feeling undesirable (because of the shape of my body; the rest of me is amazing) to feeling positively sexy. Would I do it again? Absolutely yes, and without hesitation.