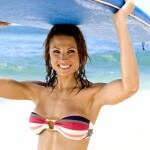 Labiaplasty is one of the rapidly growing cosmetic procedures in our Northern California plastic surgery practice. Prominent labia minora (small lips around the vagina) can develop naturally, appear at puberty, or occur after stretching from childbirth. Women with prominent labia minora are sometimes embarrassed by the visible contours in workout clothes or in swim suits. They often report a discomfort from the sensation of pulling, irritation, or rubbing when wearing tight jeans or form-fitting underwear. Other complaints associate with activity include pain when riding a bicycle, working out, or even during intercourse. The labiaplasty procedure aims at sculpting the labia minora so they do not protrude and become visible from a front view. After labiaplasty, patients report comfort in clothing, freedom from tugging during activities, and confidence in wearing bathing suits.
Another very popular procedure that our
Santa Rosa plastic surgery patients request is vaginal surgery (vaginal rejuvenation). The rejuvenation of women's intimate areas, once almost never talked about, is now a common topic of discussion in our Marin and Sonoma plastic surgery practice.Childbirth can tramatize and stretch the vaginal canal. Despite doing pelvic tightening exercises, many women report that the lax vaginal canal affects their enjoyment of sexual intercourse. New procedures can tighten the muscles in the area and restore a woman's vaginal anatomy.