Building a Face, Nurturing a Soul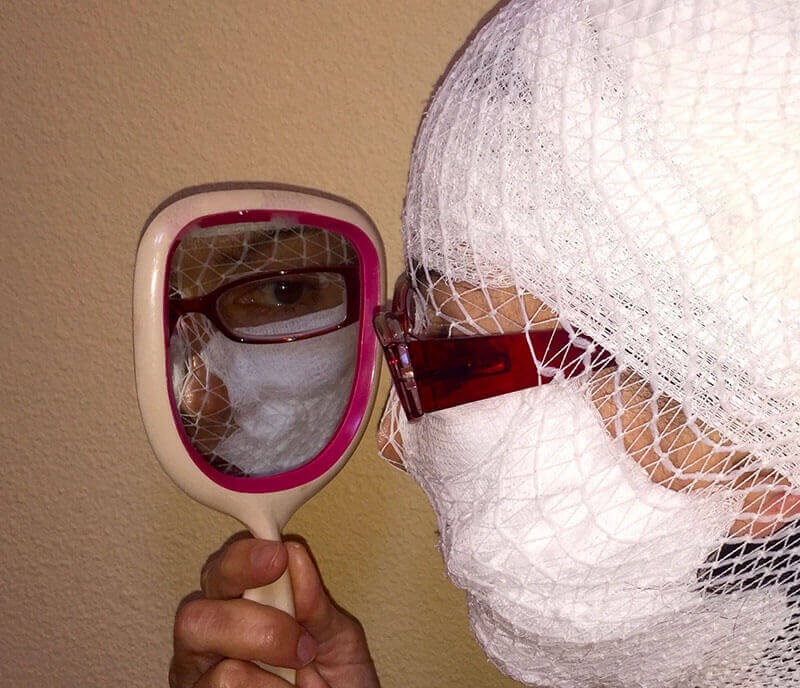 In September, 2007, US Navy SEAL Lieutenant Jason Redman lost much of his face to machine gun fire while in Iraq's Al Anbar Province. He'd been leading a unit to search for a high-ranking al-Qaida leader with a lusty appetite for beheadings and suicide bombings. As a plastic surgeon, I knew what reconstructive surgery was like from a surgeon's perspective. But I didn't know—I couldn't know—what it was like to be the patient. Not until Redman told me in The Trident: The Forging and Reforging of a Navy SEAL Leader: "My fingers reach my right cheek, and … I feel nothing. …Blood fills my throat, so I stoop forward to keep from choking." Survival was only the first step. Along with other injuries, Redman's cheekbone, orbital floor, and nose were destroyed.
The Lost Face
"Everyone says looks don't matter, that the heart, the soul, the spirit are all that count in a marriage… For most that is never tested." Life changes when you're deformed. Redman and his fellow soldiers knew that despite society's apparent disdain for vanity, appearances matter. They knew the scenario well: Women arrived at the hospital, saw their fiancé/husband/boyfriend's face, and they walked away. For good. All for the want of a face. "The reality sank in: I would never look normal again. I…spun further downward, wondering if I'd ever really recover." Although he was terrified for his wife to see him for the first time, when she did, she kissed him tenderly "around all the tubes" and wouldn't leave his side. Ever wonder what it would be like to see a not-your-reflection peering back from the looking glass? As his wife looked on in horror, an unexpected mirror in a CT scanner showed Redman his face for the first time. "I was staring at a stranger. There was no resemblance to the man I once was. The shock almost made my knees buckle."
Faces Burned beyond Recognition
Throughout history war has destroyed men's faces, but World War I introduced weapons of unprecedented destructiveness, resulting in a startling number of traumatized faces burned beyond recognition. Sir Harold Gillies, often called the Father of Plastic Surgery, cared for many of them. Taking tissue from other parts of the body, he rebuilt their faces.
The Guinea Pig Club
During World War II, Gillies' cousin, Sir Archibald McIndoe, was so innovative while treating badly burned fighter pilots that his patients called themselves The Guinea Pig Club. The members of The Guinea Pig Club loved McIndoe, who also served as father to all of them. Arriving at the hospital, their faces severely burned, it was natural for them to feel their lives were over. But he encouraged them, even sending them out in the town to stroll and to stop for a pint, so that the townspeople, so inured to the sight, no longer stared at those disfigured men.
The Face as Theater for the Emotions
But outside of an environment like McIndoe's protective bubble, the world at large isn't so forgiving. Redman recalled that "little kids pointed..and called to their mothers to look at me too. People refused to talk to me. They'd act ashamed or embarrassed, or they'd set expressions of pity on their faces." But staring is what people do when confronted with a disfigured face. After all, our face is the actor, the stage, and the theater for our emotions. Feelings flit through our brains, and our facial muscles act them out, smiling, furrowing, crying, laughing. We scrutinize each other's facial nuances to assess emotion, intent, and personality, so no wonder people stare at a deformed face. The odd smile, a grimace instead of a laugh, a frightening hole instead of a cheek—how can the observer gather clues when the theater for the emotions stands in ruins? Yet those who stare fail to mask their own emotions: horror, disgust, curiosity, pity, fear. So busy are they dissecting the deformed face that they ignore the emotion-filled person inside, eliciting anger, sadness, depression, and alienation. The person who becomes the spectacle may find it's easier to just hide away.
Recovery: Physical and Emotional
Redman's young daughter Mackenzie "had this innocent acceptance of me and my condition that helped give me strength to deal with it....I started to feel more like myself. Being home with family, in their care and love, made all the difference." It took years and many procedures for surgeons to reconstruct Redman's face. "Little by little, modern medicine was putting me back together. There were times of despair, times of hope, times of extreme frustration. The humor kept us centered... and gave our spirits a needed boost." Mending physical deformities is tightly linked with mending emotional trauma. Archibald McIndoe's patients loved him not only because he made them more presentable, but also because he gave them hope, courage, and confidence that their lives were worth living.
Plastic Surgery Touches Emotions
In all the surgery that plastic surgeons perform, whether aesthetic or reconstructive, our procedures usually touch the emotions. Appendectomies and tonsillectomies don't affect people the way a breast reconstruction or a rhinoplasty does. By reconstructing, rejuvenating, and improving, we hope to make people feel better about themselves. While we can understand their physical problems, we don't always understand our patients' depth of despair. Jason Redman's journey explains that the final result, the wholeness of the patient, comes not just from the surgeon's knife, but from the patient's own determination and courage along with the love and support he can find at home. https://www.youtube.com/watch?v=_nZ8f6zHufg References: Williams CJ. Harold Gillies, aesthetic reconstructor.
Available at: http://www.nzedge.com/harold-gillies/ Accessed June 26, 2002 de Quetteville H. The pioneering surgeon who healed men scarred by war. Available at: http://www.telegraph.co.uk/history/world-war-two/10865297/The-pioneering-surgeon-who-healed-men-scarred-by-war-a-new-monument-created-in-his-honour-and-the-remarkable-twist-of-fate-that-links-them.html Accessed May 30, 2011 Redman, Jason. The Trident: The Forging and Reforging of a Navy SEAL Leader. Available on Amazon.com.