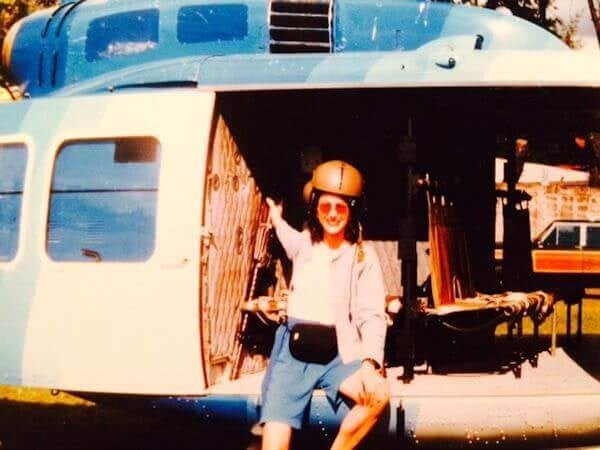 Dr. Heather Furnas about to take flight during an R & R Day at the end of a Plastic Surgery Cleft Lip and Palate Mission
When you're looking for someone to do your plastic surgery, choose a board-certified plastic surgeon. Yah, yah, yah, you've heard it before. Articles about choosing a plastic surgeon can make YOU bored-certified. So scratch that, and let's talk about a helicopter crash. Several years ago I volunteered for a medical mission in Central America, my first since becoming a mother. My children were young, just one and three, and I nearly backed out at the thought of leaving them. But I knew I'd be helping other mothers' children, so I went.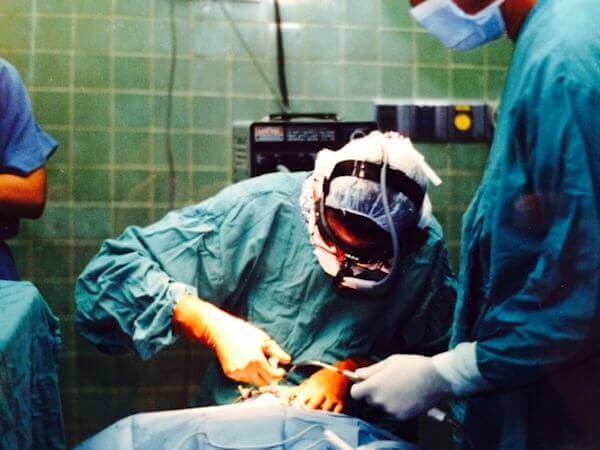 Dr. Heather Furans repairing a cleft palate in Central America
Our little cleft lip and cleft palate patients were among the poorest in a poor country, and their surgical options were few. Over the ensuing days, our plastic surgery team worked long, intense hours to complete as many cases as possible in our limited time. On our last day, our military hosts announced that in gratitude, they'd arranged for two of their national Navy helicopters to fly us for a day at a private island beach. I had a fleeting feel of leaving my children motherless by flying in a Third World Navy helicopter.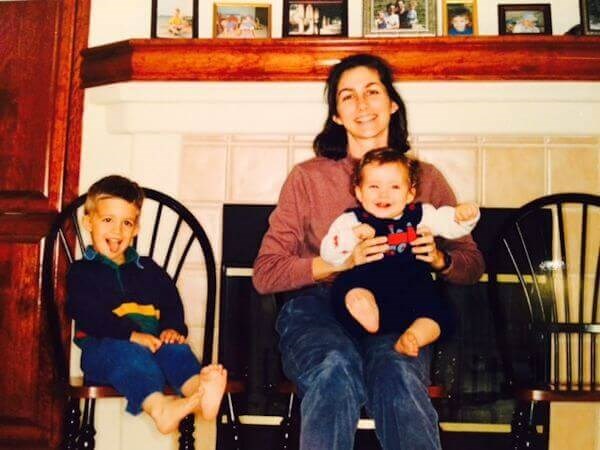 Dr. Heather Furnas with her children in 1994
But the group was excited to go, and I told myself I was being overly cautious. After all, they were military pilots trained for battle. The next morning, we met our four pilots at the airfield next to the two helicopters. Dressed in their olive drab jumpsuits, sturdy boots, and helmets, they looked ready for a military mission. They handed each of us a heavy helmet and motioned us to board. After everyone was seated and harnessed in, the engine started whining. The blades rotated, faster and faster, and the helicopter shook and roared, and the ground pulled away. I felt like a kid on a roller coaster. Thwack, thwack, thwack. We flew over rolling hills strung together by dusty dirt roads that connected the occasional village. Thwack, thwack, thwack. We approached the other helicopter and waved at our colleagues. I burst out laughing as they responded with funny faces. Thwack, thwack, thwack. Our helicopter drew even closer...now uncomfortably close. My heart was pounding and my hands were sweating. Was this normal? Should I say something? I hesitated. Maybe I was overreacting. They were military pilots; they knew what they're doing. Thwack, thwack, thwack. The gap between helicopters narrowed. "YOU'RE TOO CLOSE!" an anesthesiologist shouted. Now we were as a dragonfly flirting with a potential mate. A stillness swept over me as I realized the pilots didn't know what they were doing. Time slowed down. "WE'RE TOO CLOSE!" we all shouted. We were going to crash. I'd been wrong in assuming that a military, any military, was, if anything, over-trained to fly tourists in peacetime on a clear day. I wanted to tell my husband I loved him and to take good care of my babies. I wanted to tell him how sorry I was that I'd made such a bad decision. Our blades were about to touch, and I gripped my seat waiting for the violence. In a moment I'd know what a helicopter crash was like. But nothing happened. We'd changed direction. One of the pilots turned around and flashed a broad, sheepish smile. We were fine. We were safe. I would live. I was too grateful to be alive to be angry. A short time later one of those helicopters did crash. It had only been a matter of time. I was able to see my kids grow up simply because I'd been lucky.
How a Military Pilot is like a Plastic Surgeon
Trusting a "military pilot" is like trusting a "board-certified" surgeon. There are differences among national militaries just as there are differences among boards. Laws protect the doctor more than they protect the patient. Any doctor with a license to practice medicine can call himself a plastic surgeon. I could call myself a heart surgeon. Of course, no hospital would give me privileges to do open-heart surgery, but cosmetic surgery is usually done private offices or surgery suites where oversight may be minimal or non-existent.
Determining the Highest Competence
The American Board of Medical Specialties (ABMS) is like the U.S. military. Both the years of training and examinations to determine competence are rigorous. Certification in one of the specialties indicates competence...in the certified field. You want a good plastic surgeon? Find someone certified by the American Board of Plastic Surgery (ABPS). Certification by the ABPS represents comprehensive six-to-eight-year training in all aspects of the face, breast, and body.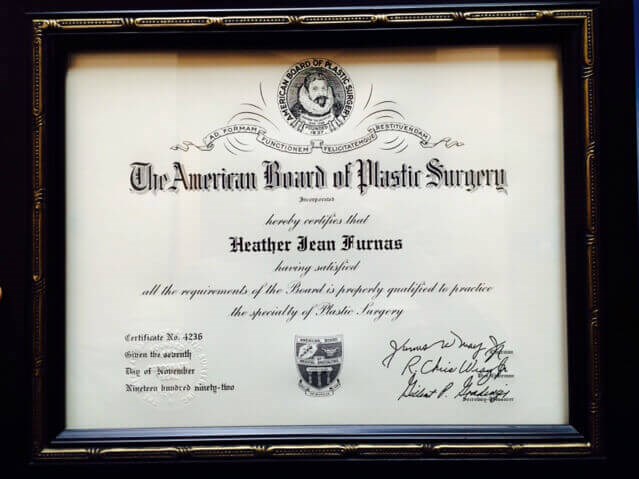 Diploma Indicating Certification by the American Board of Plastic Surgery
A Board by Any Other Name
Sounds straight forward so far. But then the waters get muddy.Instead of representing years of rigorous training and competence, some Cosmetic Surgery boards train through weekend courses with instructors themselves trained through weekend courses. Just as I ended up in a helicopter with a two pilots who were poorly trained, patients may find out too late that their "plastic surgeon" was actually a general surgeon, a gynecologist, a family physician, a cardiologist, or an emergency doctor.
Why a Specialist Might Specialize
An ENT surgeon (otolaryngologist) trained in Facial Plastic surgery does aesthetic surgery of the face, just as an ophthalmologist trained in Oculopastic surgery does aesthetic surgery of the eyes. They were trained to do so. Facial Plastic Surgeons and Oculoplastic Surgeons occasionally distinguish themselves as specialists in the face or eyes, unlike the "general plastic surgeon." Let me explain what that means. I'm licensed to drive a car, and that's the only type of vehicle I drive. So I "specialize" in driving cars. A truck driver, on the other hand, is trained to drive both cars and trucks. He might drive his car to work, then jump in a truck to make deliveries. Because he's done extra training in truck driving doesn't mean he's less trained to drive a car. He can do both very well. I could say that the truck driver is a "general driver" and I'm the car specialist. But, truth be told, that truck driver is as well trained to drive cars as I am.
The Comprehensive Plastic Surgeon
Instead of being called a "general plastic surgeon," a board-certified plastic surgeon is more accurately called a "comprehensive plastic surgeon." They "specialize" not just in the eyes or the face, but also in the breast and body. After all, they've spent years mastering the entire field of plastic surgery, and they've passed rigorous exams demonstrating their expertise.
Board-Certified? By Which Board?
When choosing a plastic surgeon, check the exact board certification before entrusting your life or your body to him or her. I was lucky on my helicopter flight, but luck is unreliable. Choose someone well-trained, safe, able to handle complications, unusual anatomy, and knowledgable in the best techniques. It's your body. It's your life.
RESOURCES:
http://www.smartbeautyguide.com/news/infographics/find-plastic-surgeon#.VXHDcc9VhHy http://www.smartbeautyguide.com/news/safety/don-t-headline-statistic-plastic-surgery-wrong#.VWfk8mC4kci
http://www.smartbeautyguide.com/news/news-and-trends/plastic-surgeon-cosmetic-surgeon-s-difference#.VWfkxmC4kch