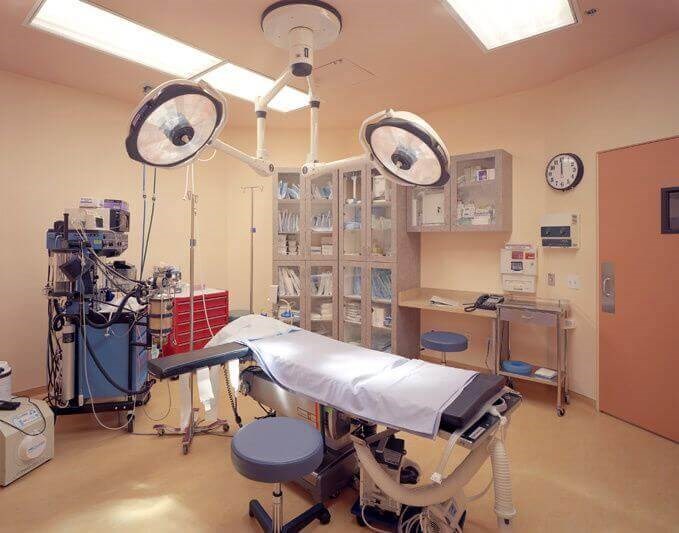 Operating Room, Accredited for Patient Safety
If you're having plastic surgery, you're probably putting 100% of your focus on choosing your surgeon. But where you have your surgery is as important as who does your surgery. An excellent surgeon is likely to operate in a safe operating room, which means one that has been accredited by a recognized national certifying agency. How can you tell if it's accredited? Ask to see photos of the OR and look for: 1. Venetian blinds on the windows 2. Carpeting on the floor. 3. A sink in the room. 4. A baseboard where the wall meets the floor. These things are not allowed in an accredited OR. Why not? Imagine the difficulty cleaning Venetian blinds if fluid gets sprayed. And if it's difficult, how often is it done? Or if blood or pus spills on the carpet, how is it disinfected between cases? And that sink? Is the drain really something you want in the same room as your open wound? And baseboards? Fluid spray and bacteria can reside along the seams of where the baseboard meets the walls. Your surgery should be done in an accredited operating room for one reason: YOUR SAFETY.
Safety Matters
There's more to accreditation than the physical characteristics you can see. The other features are invisible to the eye, but they impact patient safety: 1. Peer review: Surgeons serve as monitors for each other to make sure safety measures and standard of care are followed on a regular basis. 2. Data tracking: Infections, complications, sterilization checks, and other data are monitored and measured for patient safety. 3. Fire, Earthquake, and other safety protocols are reviewed. 4. Drug tracking, expiration checks, and emergency medication supplies are kept up to date. 5. Standards are set so that deep levels of anesthesia are performed by an anesthesia professional (physician anesthesiologist or a CRNA) and all staffing positions are filled with certified or licensed individuals appropriate for the job. 6. Medical records are checked to make sure they're complete and up-to-date. 7. Quality management to ensure best standards are conducted and reviewed. 8. Protocols are checked with every three-year-review. 9. Patient care and treatment are reviewed.
Patient Safety Is Extremely Expensive
Yet most office surgical facilities are still unaccredited, operating alone without inspections or peer review. Why would a surgeon operate in an unaccredited facility? One big reason: Patient safety is extremely expensive. It's much, much cheaper to run an unaccredited facility. Don't be fooled by doctors promoting the safety of surgery done under local anesthesia. They may be masking an unaccredited facility and the inability to offer general anesthesia.
How To Check Accreditation
If you're planning to have plastic surgery, confirm that your surgeon will be operating in a facility that has been accredited by one of the following nationally recognized agencies: 1. The American Association for Accreditation of Ambulatory Surgery Facilities, Inc., accessible at www.aaaasf.org 2. Accreditation Association for Ambulatory Health Care, Inc., accessible at www.aaahc.org 3. Institute for Medical Quality, accessible at www.IMQ.org 4. Joint Commission on Accreditation of Health Care Organization, accessible at www.jointcommission.org 5. State-licensed 6. Medicare-certified On the day of your surgery, minimize your risks by doing your homework ahead of time. (You don't want to be in a facility without a back-up generator if the power goes out!) Make sure your doctor operates in an accredited OR. The surgeon who operated in an accredited operating room probably cares as much about your safety as you do! Resources: https://www.youtube.com/watch?v=K4vZXUHnr6Q